🔥
20%
discount for new customers on their complete first order! To get the discount, please, connect to our ad-free
Telegram Bot
.
Keto-sweets

The flavorful taste of chocolate, coffee, walnuts mixed with just a hint of rum, almost a classic recipe! Best addition to your morning matcha late or bulletproof coffee to keep you energetic and satisfied till the evening!
Shelf life: 21 days. Store at 4-18 °C
Delivery with Nova Poshta
Ingredients and nutrition facts
erythritol
, stevia extract, walnut paste, cocoa butter, cocoa powder, cocoa mass, coffee, rum Stroh
Serving
Carbs: 1.4 g (4% kcal)
Protein: 2 g
Fat: 12 g
Fiber: 1 g
Calories: 131 kcal

100 g
Carbs: 6.9 g (4% kcal)
Protein: 13 g
Fat: 63 g
Fiber: 5 g
Calories: 655 kcal


A tropical taste for the lovers of coconut! A keto-version of a classic "Bounty" bars, coconut "fat bomb", covered in delicate crunchy dark chocolate.
Shelf life: 14 days. Store at 4-6 °C
Delivery with Nova Poshta
Ingredients and nutrition facts
erythritol
, stevia extract, coconut cream, coconut oil, shredded coconut, cocoa mass, cocoa butter
Serving
Carbs: 1.0 g (4% kcal)
Protein: 1 g
Fat: 10 g
Fiber: 1 g
Calories: 100 kcal

100 g
Carbs: 6.7 g (4% kcal)
Protein: 6 g
Fat: 68 g
Fiber: 9 g
Calories: 667 kcal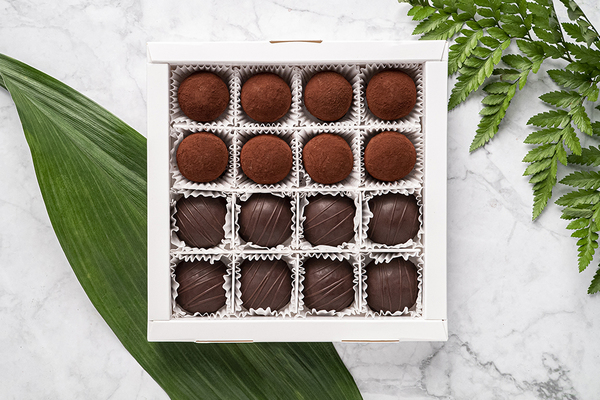 Truffle, shelf life: 21 days. Store at 4-18 °C
Bounty, shelf life: 14 days. Store at 4-6 °C
Delivery with Nova Poshta
Ingredients and nutrition facts
Keto-truffle
erythritol
, stevia extract, walnut paste, cocoa butter, cocoa powder, cocoa mass, coffee, rum Stroh
Serving
Carbs: 1.4 g (4% kcal)
Protein: 2 g
Fat: 12 g
Fiber: 1 g
Calories: 131 kcal

100 g
Carbs: 6.9 g (4% kcal)
Protein: 13 g
Fat: 63 g
Fiber: 5 g
Calories: 655 kcal

Keto-bounty
erythritol
, stevia extract, coconut cream, coconut oil, shredded coconut, cocoa mass, cocoa butter
Serving
Carbs: 1.0 g (4% kcal)
Protein: 1 g
Fat: 10 g
Fiber: 1 g
Calories: 100 kcal

100 g
Carbs: 6.7 g (4% kcal)
Protein: 6 g
Fat: 68 g
Fiber: 9 g
Calories: 667 kcal