Black cumin buns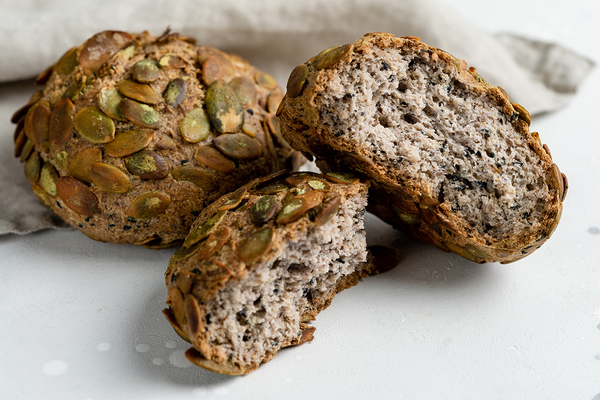 Ingredients and nutrition facts
almond flour, marine salt, baking powder, coriander, black cumin,
psyllium
, apple cider vinegar, egg whites, pumpkin seeds
Serving
Carbs: 8.2 g
Protein: 18g
Fat: 33g
Fiber: 4g
Calories: 406 kcal

100 g
Carbs: 10.3g
Protein: 23g
Fat: 41g
Fiber: 5g
Calories: 507 kcal

The secret recipe from our chef, featuring coriander and black cumin, topped with pumpkin seeds.
The base of the recipe in almond flour, which is not only super low-carb but is packed with nutrients! We also add psyllium, which makes keto-pastry full of fiber.
Adding soft cheese, salad, and salmon on top would make a perfect keto sandwich for your delicious low carb dinner.
If you are interested in the option of keto bread for children, or just want to try a less spicy version, you will like buns without spices.