Keto cinnamon rolls
Our fragrant and nutritious keto cinnamon rolls will satisfy your sweet tooth for a long time. Tastes the best when heated up a little! That is a mini version of our traditional keto cinnamon rolls.
Low carb pastry dough is the secret of our pastry chef, however, we will reveal a large part of it: it is almond flour! Thanks to it's properties our pastry contain so few carbs. It is very nutritious, thus keto pastry are high in calories. But do not be afraid of that! After a small portion of low-carb pastry you will feel full for a long time without thinking "what to eat" in an hour, as is the case with regular desserts.
Cinnabon is the most classic dessert you can imagine. However, if you suddenly get bored of its wonderful taste, try our exotic keto dessert rum baba with barberry. You will like it!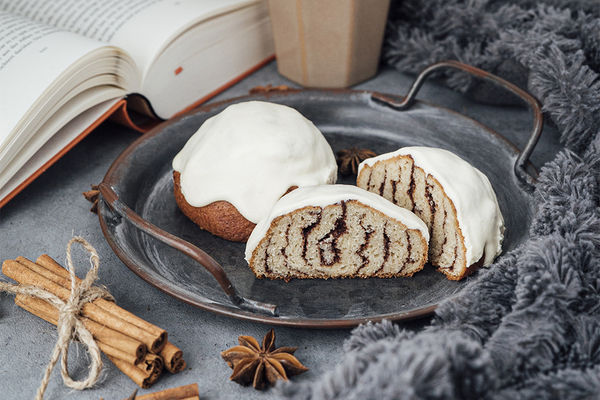 Ingredients and nutrition facts
almond flour, mozzarella, butter, eggs, sour cream, cream cheese,
erythritol
, cinnamon,
psyllium
, baking powder, stevia extract
Serving
Carbs: 12.3 g
Protein: 20 g
Fat: 54 g
Fiber: 2 g
Calories: 619 kcal

100 g
Carbs: 11.7 g
Protein: 19 g
Fat: 51 g
Fiber: 2 g
Calories: 590 kcal